Nassau County Market Trends
📆 Date: August 2023
📍 Location: Nassau County Market Trends 📊 Update:
Hey there, Nassau County! John Cordeira, your trusted REALTOR®, is here to update you on the latest market trends. As of August 2023, we currently have a 2.57 Months Supply of Inventory, indicating a competitive market for both buyers and sellers. 🏡✨ #MarketTrends #RealEstate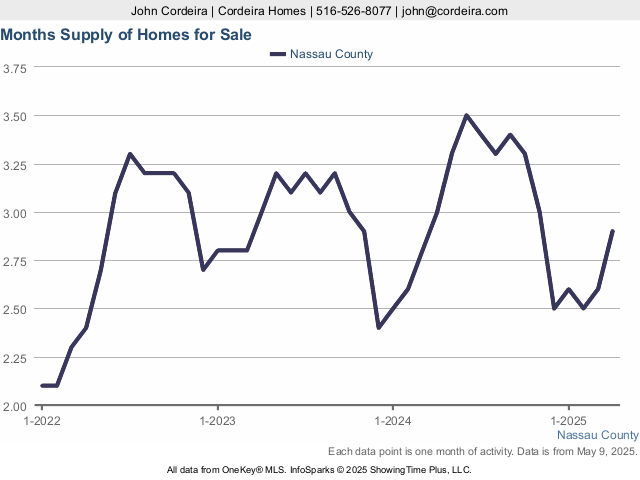 What does "Low Housing Inventory" Mean?
Sellers, Nassau County Market Trends are in your favor
Good news for sellers in Nassau County! Over the last 12 months, the supply of Inventory has decreased by an impressive 33.07%. Now is the perfect time to list your property and take advantage of the high demand. Reach out to me today to get started! 📈💰 #SellersMarket #MarketUpdates"
Buyers, you need to follow the Nassau County Market Trends.
Attention, buyers in Nassau County! The List to Sold Price percentage is at an impressive 100.3%. This means that sellers are getting top dollar for their properties. Don't miss out on your dream home – let's work together to find the perfect place within your budget! To find the newest homes to hit the market, check this link often! 🏠💸 #BuyersMarket #MarketInsights
Find the right broker for you
Looking to sell your home quickly? The median days on the market in Nassau County is just 27 days. With such a fast-paced market, it's crucial to have an experienced REALTOR® like myself by your side to navigate the process efficiently and effectively. Let's get your property sold in no time! ⏰✨ Seeing is believing follow this link to review John Cordeira's testimonials #FastSales #MarketStats
Median Sold Price in Nassau County
Curious about the median sold price in Nassau County? As of August 2023, it stands at $750,000. Whether you're buying or selling, having an understanding of the local market values is essential. Reach out to me today for a personalized analysis of your property's worth! 💼💰 #MedianSoldPrice #RealEstate
Remember, I'm here to provide you with the most accurate and up-to-date market trends information. Let's chat about your real estate goals and make them a reality! 📞🏡 #CordeiraHomes #MarketUpdates #RealEstateAgent
Here are some other resources relevant to Nassau County Market Trends:
Massapequa Market Trends: Click Here
Massapequa Park Market Trends: Click Here
For Fun things to do in Western Long Island, Click Here